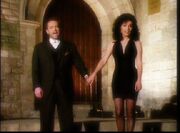 "
Amigos Para Siempre (Friends for Life)
" or "
Amics per sempre
" is a song written for the 
1992 Summer Olympics
 in Barcelona. The music was composed by 
Andrew Lloyd Webber
. The lyrics, written by 
Don Black
, are in English, except for the title phrase which is repeated in English, Spanish and 
Catalan
.
Sarah Brightman and José Carreras performed the song during the closing ceremony of the Olympic Games.[1] The duet was also released world wide as a single to coincide with the Games. It peaked at No. 11 in the UK charts. It was one of two musical themes for the event. The other, simply titled "Barcelona", was sung by Freddie Mercury and Montserrat Caballé, and reached No. 2.
Track listing
Edit
Amigos Para Siempre
Live Opening Ceremony Barcelona Olympic 1992 Games
Amigos Para Siempre (Spanish Version)
Amigos Para Siemre (Seat Anuncio 60 aniversario) – Marujita
Sarah:
I don't have to say a word to you
You seem to know whatever mood I'm going through
Feels as though I've known you forever
José:
You can look into my eyes and see
The way I feel and how the world is treating me
Maybe I have known you forever
Both:
Amigos para siempre
Means you'll always be my friend
Amics per sempre
Means a love that cannot end
Friends for life
Not just a summer or a spring
Amigos para siempre
I feel you near me
Even when we are apart
Just knowing you are in this world
Can warm my heart
Friends for life
Not just a summer or a spring
Amigos para siempre
Ad blocker interference detected!
Wikia is a free-to-use site that makes money from advertising. We have a modified experience for viewers using ad blockers

Wikia is not accessible if you've made further modifications. Remove the custom ad blocker rule(s) and the page will load as expected.